(I neglected to post this after Thanksgiving, 2005, so I'm posting it now to get me in the mood for Thanksgiving 2006. Enjoy. I know I did...
)
Thanksgiving cut a wide swath through the wine cellar, beginning Wednesday evening and continuing through Sunday's Bears' game.

Festivities started with a just-released 2005 Beaujolais Nouveau from Georges DuBoeuf. This light, fresh, fruity wine is perfect for Thanksgiving...and the night before.




Then came a 2003 "Fusion" Cabernet Sauvignon/Syrah blend from Paso Robles' Opolo Vineyards, a discovery from April's Wine Country Half-Marathon adventure. According to the winery's tasting notes, "this estate blend of Cabernet Sauvignon and Syrah has resulted in a symphony of berry and black cherry with well integrated tannin and balanced acidity. Twenty months of oak aging has given this wine notes of butterscotch and vanilla." Yep, that's pretty much it alright.




Next up was a 2003 Merlot from the Napa Valley's Markham Vineyards. Markham's notes say: "The news of Merlot's demise have been greatly exaggerated, as evidenced by this juicy little wine. So loaded with vibrant vanilla, toasty oak and hints of smoke, it's amazing there's still room for aromas of berry jam and cola. Milk chocolate, a common denominator in the nose and palate, gives way to bright fruit flavors. This Merlot should prove delicious with dinner tonight while its dusty tannins will allow it to age gracefully." Actually, it didn't make it to dinner. Oh, well.

Next was the hit of the weekend: a 2001 Cabernet Sauvignon from Napa's Kathryn Hall Winery. Wow, what a wine. Just amazing, as the tasting notes reflect: "The (wine) certainly retains the muscular structure that's to be expected from this vineyard, yet comes across broad and expansive... The fruit is both brawny and lush, remarkably expressive and clearly delineated. Expect a massive wall of deep, plummy fruit matched by generous floral and earthy aromatics, exotic spice, tea and notes of rich, toasted oak. This is indeed a powerful, profound Cabernet that reflects its mountain-grown origins. This wine is drinking beautifully right now, but for those who prefer to defer their gratification a bit longer, it will no doubt continue to evolve in complexity quite nicely over the next 3-10 years." No delayed gratification here. Nosiree.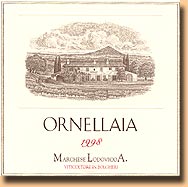 And on to Ornellaia, 1998's Wine Spectator Wine Of The Year "straight from the cellars of Lodovico Antinori. This outstanding winery is located in Bolgheri, the birthplace of many legendary Super-Tuscans such as Sassicaia. In great vintages, such as these, it is one of the best investments in the wine market.
"Ornellaia embodies the modern renaissance of Italian wines. This Cabernet blend from the coastal region of Bolgheri is path-breaking in its origin, contemporary in its winemaking, international in its varietal blend, and thoroughly Tuscan in its soul. Given the brilliant quality of the 1998 Ornellaia, it's hard to know if the luster of this great red can possibly shine more brightly." (from Wine Spectator's review.) It was great though not my favorite. Sorry, experts.

Still going (though listing a bit from the Vertical) we opened a 1999 "Elevage" from Chimney Rock Winery. Here's how one reviewer described this merlot/cabernet sauvignon/cabernet franc blend: "Medium garnet color. Fabulous nose of sweet oak, cassis, and wood shavings. Sweet mouthfeel, with abundant macerated black cherry fruit, and a very nice touch of toast oak and long finish." Wood shavings? Um, OK. Must have missed those, though I liked the wine a lot.





Finally, finally, with leftovers I think, we tasted a 1999 Cabernet Sauvignon Reserve from Frank Family, another Napa Valley producer. Wine Spectator's review mentions "a very complete, rich and concentrated (wine), with a potent core of ripe plum and black cherry fruit that's well centered and supported by firm mouth-coating tannins. Finishes with a long rich persistent aftertaste and a dash of cedary oak." Whatever. It was a nice wine to finish things off.

You probably can't discern a theme here. There isn't one beyond ignoring the experts and opening wines simply because we thought we'd like 'em. And we did, though not in the order the experts said we should. But when it's MY money, the only expert who counts is ME. And Tri-Brother. And I'm still wondering about those wood shavings...